Associate professor Anica Hunjet, Ph.D. - Vice-Rector for Scientific and Artistic work and International Cooperation, University North was in Austria at the University of Applied Sciences Burgenland in the frame of the CEEPUS Mobility Program in the 2019/2020 academic year during February 2020.
For the purpose of teaching, she has taken a part in teaching at the study program Masterprogram European Studies – Management of EU Projects at course International Economics.
Meet the Europeans in the lectures Meet the Europeans: Croatia with the following topics by days:
IMPLEMENTATION OF BUSINESS PROCESS REENGINEERING METHODS TO ENTERPRISES - OMICRON D.O.O. AND KUŠTELEGA D.O.O.
MEASURING THE IMPACT OF SELF-EMPLOYMENT SUBSIDIES ON UNEMPLOYMENT IN CROATIA
Stakeholder Dialogue in the Development of Sustainable Tourist Destinations
Environmentally Sustainable Tourism as a Strategic Determinant of Economic and Social Development
The role and importance of celebrities in achieving customer satisfaction and loyalty
The Influence of Chatbots on Advertising Campaign Performance
Bloggers and Influencers - the Phenomenon of Driving Consumer Fashion Choices
Working with the candidates for doctoral dissertations as a mentor with the candidate Vesna Sesar and Kristina Maršić.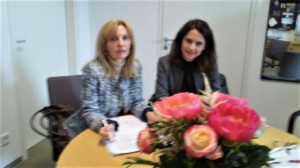 Attended meetings related to the new Cooperative Interdisciplinary Cross-Border Doctoral Programme in Educational & Communication Sciences and Public Hearing PhD candidates,  13-14 February 2020.
On 20 February 2020 she participated in the meetings of the Consortium at the International Joint Cross-Border PhD Program in International Economic Relations and Management and Public Hearing of candidate Vesna Sesar. On February 21, 2020, she was interviewing new PhD candidates.