Xufeng Jia guest lecture on EU-China Economic Relations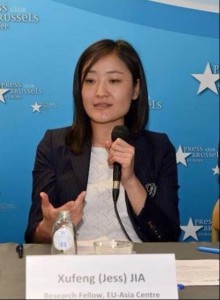 Xufeng (Jess) Jia will hold a guest lecture at Thursday, 3rd of December at 16:30 in University centre Koprivnica. Her lecture in University North will be EU-China Economic Relations under the current global economic climate with a Croatia focus. In light of the current global power shift, she will give an overview of the economic landscape of China and its impact on EU-China economic relation.
Xufeng Jia (Jess) is currently working as a Senior Legal Counsel in Podravka head office. She is in charge of the legal and public affairs with regard to China market; she is involved in other cross-border projects within the Podravka group as well, especially in the new markets. Before joining Podravka, she worked in Brussels as a research fellow in the field of EU-Asia relations, and before coming to Europe she worked as a corporate lawyer in Shanghai.
She holds an LLM degree from Hamburg University and Judicial Master from East China University of Political Science and Law in Shanghai. She is also a PhD candidate of Erasmus University of Rotterdam. In recent years, she is actively lecturing in the field of EU-China Economic relations, Chinese overseas mergers and acquisitions (M&A) and how to do business with China from the law and economics perspective.