Signed new Agreement of Cooperation with Odessa State Environmental University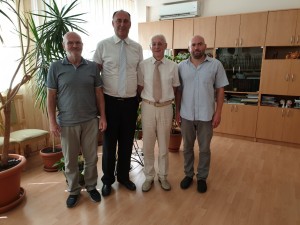 In the period from August 19 to August 22, 2019, representatives of University North headed by rector, prof. Marin Milković, Ph.D. visited Odessa State Environmental University in Ukraine in to establish cooperation (http://odeku.edu.ua/language/en/home/), as well as to co-organize and participate in the international conference "INTELLECTUAL SYSTEMS AND INFORMATION TECHNOLOGIES, ICIT 2019" (http://isit.odeku.edu.ua/index_en.php). 
A meeting between the two rectors, prof. Marin Milković, Ph.D. and prof. Sergiy Stepanenko D.Sc. was held. Representatives of University North Željko Kos, Ph.D. and assist. prof. Aleksej Aniskin also attended the meeting. As a result of the meeting, it was signed Agreement of Cooperation and it was agreed further development of cooperation within the Erasmus + program, scientific cooperation and cooperation on other projects. Both rectors actively supported the cooperation. Representatives of the University North participated in the conference with joint scientific work.