Student experience on CEEPUS mobility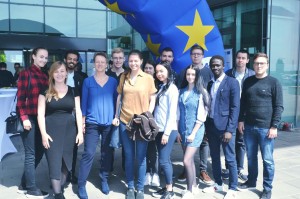 I am a master study student of  Business Economics - direction "International trade" at the University  North in Varaždin. The University  North is located in Croatia. Through Ceepus, I applied for mobility for one semester because I wanted to study in international environment, improve my language skills to have new experience that I believe will help me further in life, both career wise and as a person. My mobility lasted from 15.02. – 15.6. 2019.  at the University  FH Burgenland, University of applied sciences in Austria. During the first week the FH Burgenland have introduced us to each other with different activities they had organized and it was great experience. We were introduced to Austrian culture with events as in wine and meal tasting, guided tour in Eisenstadt and everything was very well prepared in general. Later we had organized trips to Wien and Salzburg. The lectures were very interesting to me and I gained a lot of new knowledge that I will use in future. The FH Burgeland was very professional and everything was organized. One of the classes "Seminar on recent economic topics" was particularly interesting because we had to prepare for Europa Days  that was on 10. and 11. May and the work will be published this autumn. I also had opportunity to greet my professors that were visiting Eisenstadt from University North, prof. dr. sc. Anica Hunjet and prof. dr. sc. Ante Rončević.
I would like to thank you for given opportunity and thanks to prof. dr. sc. Anica Hunjet and . dr. sc. Ante Rončević from Varaždin, who encouraged me to apply and supported me during my stay. Also to everyone at FH Burgenland with whom I interacted during my stay.I only have positive experiences and I learned a lot.
Matija Konjić