Meeting of representatives of University North and Uzhhorod National University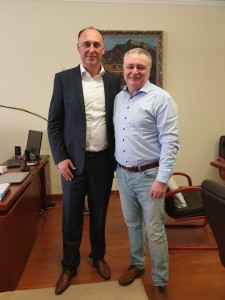 Representatives of University North headed by professor Marin Milkovic phD, University North rector, visited Uzhhorod National University (UzhNU) during the period from 16 to 19 April, 2019. During the visit, a series of important meetings were held, and the most important meeting was with the rector of UzhNU, professor Vladimir Smolanka, MD DSc. The rectors' meeting was held on the mutual initiative, and as a continuation of the long-standing contacts of the Varaždin and Uzhhorod scientists (Kranjčec-Studenjak, 1986), and the cooperation between UNIN and UzhNU.
At the meeting of the rectors there were also other representatives of UNIN; Aleksej Aniskin, Ph.D. and Željko Kos, phD as well as the Ukrainian representatives; rector for science  Igor Studenyak, Ph.D., and Vitaliy Serzhanov, phD, Dean of the Faculty of Economics. The topics of the discussion were further collaboration within the Erasmus + KA107 programme, the exchange of experience and knowledge in science and teaching, the organization of studies and the possibilities of joint studies. The strengthening of the Ukrainian-Croatian partnership in higher education is an incentive to improve the interaction between the two university systems. Both sides are interested in further developing of priority areas such as academic and scientific co-operation, and the exchange of students and teachers. During the working visit, the representatives attended an international scientific conference "Current affairs of economics, accounting, finance and human resources management" held on 17 and 18 April 2019. In addition to representatives of UNIN and UzhNU, the guests of the conference also included representatives of many Ukrainian cities as well as scientists from Romania, Slovakia and Serbia, which was an opportunity for additional exchange of experiences and new business contacts.