Active cooperation between University North and Uzhhorod National University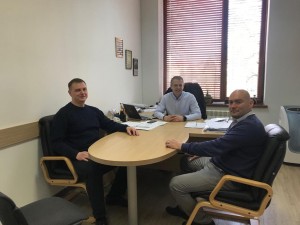 On March 26, 2019. Asst. prof. dr.sc. Aleksej Aniskin, Erasmus + coordinator of the Department of Civil Engineering, University North held a working meeting with representatives of Uzhhorod National University in Uzhhorod, Ukraine. At the International Cooperation Department, participants discussed further perspectives for cooperation in a frame of the Erasmus+ program. In meeting participated Head of the Office for International Cooperation Oksana Svezhenceva and Erasmus+ Coordinator of the Department Tatyana Dashko.
After that, with the Vice-Rector for Scientific and Educational work Prof. DSc. Oleksandr Rogacha meeting was held, in which also participated Dean of the Economics faculty, Assoc. Prof. DSc. Vitaliy Serzhanov.
The topics of the conversation included:
- the possibility of cooperation between the two universities in a frame of Erasmus+ program and other projects;
- application of joint projects;
- an increase of qualifications of scientific and teaching staff;
- cooperation in science and exchange of teaching experience
- Implementation, organization and participation of joint conferences
- Erasmus + student mobility program.
International co-operation offers new opportunities for developing both universities, administrative and teaching staff, higher quality of education for students and the advantage in the international labour market.
Links for further information: https://www.uzhnu.edu.ua/en/news/International-cooperation---it-is-a-good-opportunities.htm