The Festival of Science 2019 at University North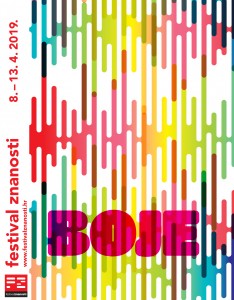 All parties  interested are invited to participate in the 17th Festival of Science organized by the British Council, the Technical Museum of Nikola Tesla from Zagreb and Croatian Universities, under the auspices of the Ministry of Science and Education, wich will be held from 8 to 13 April 2019 at the University  North. The topic of this year's Science Festival is "COLORS". The Science Festival is an opportunity for popularization of science, programs and projects of particular departments and scientists from different scientific fields of work.

The goal of this  festival is to bring the science closer to the public, and to  inform the public about activities and achievements in the field of science, to  improve public perception of scientists and to motivate young people to research and acquire new knowledge. As in previous years, the Science Festival is abundant with various activities: lectures, workshops, experiments, socializing with children and adults, presentations, performances and exhibitions.
The program of workshops within  the Science Festival held at the University  North can be found in the attachment.